The Drillimation Anime (ドリメーションアニメ, Dorimēshon Anime?), or just simply The Drillimation Series, is an Emmy Award-winning Japanese anime television series created and written by Hiroshi Takajima and is simply the collective term for six major anime series, all of which focus on the adventures of Susumu Hori and his many friends he makes as the series progressed.
The anime began airing in Japan in 1969 starting with the Angry German Kid anime and in North America in 1975 with a Drillimation anime produced specifically in North America called GoGang. Specifically, Hanna-Barbera, Lucasfilm, and Walt Disney Television obtained the license to dub the anime into English. Long before the term "anime" was coined in North America, fans of the series simply referred to the anime as The Drillimation Cartoon or The Drillimation Animated Series.
Characters
Edit
Main Article: List of Drillimation characters
Broadcast networks
Edit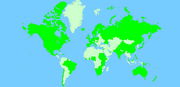 Australia
Edit
Bangladesh
Edit
El Kadsre
Edit
CBBC (2006-2009)
CITV (2009-present)
Hong Kong
Edit
TVB Jade (Cantonese)
TVB Pearl (English)
New Zealand
Edit
North El Kadsre
Edit
Philippines
Edit
United States
Edit
ABC
Cartoon Network
Disney XD
NBC
YinYangia
Edit
XCT Toonz4Kidz (Chinese)
Animax (Japanese)
PixelTV (English)
Yey! (Filipino; YinYangia)
Development
Edit
Before the anime was brought to the United States, Drillimation approached Hanna-Barbera with an offer to dub the Angry German Kid anime into English. Hanna accepted Takajima's offer and Hanna-Barbara began looking for actors to voice the characters in the dub. Charles Martinet, who voiced Igor in the GoGang anime, chose to voice Leopold and Jake. Hanna-Barbera decided to broadcast the anime on Saturday mornings, presumably when children were home from school.
External links
Edit
Ad blocker interference detected!
Wikia is a free-to-use site that makes money from advertising. We have a modified experience for viewers using ad blockers

Wikia is not accessible if you've made further modifications. Remove the custom ad blocker rule(s) and the page will load as expected.