TS-UGOS E1 (or simply just TS-UGOS before 1986) is a graphical operating system developed and released by Theorysonic. It was released in 1985.
The beta version was released in October 1984.
New features
Edit
Theorynet web browser.
Redesigned user interface into 16-bit color look.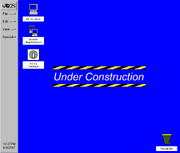 Ad blocker interference detected!
Wikia is a free-to-use site that makes money from advertising. We have a modified experience for viewers using ad blockers

Wikia is not accessible if you've made further modifications. Remove the custom ad blocker rule(s) and the page will load as expected.