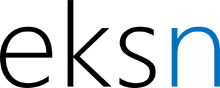 EKSN is a web portal, online service, and internet service provider operated by EKS, launched on September 5, 1984. Available for Windows, MacOS, TS-UGOS, TSUG, EKS Vortex, Linux, Android, iOS, and other platforms.
History
On September 5, 1984, EKSoft launched an online service and internet service provider called, EKSoft Network. Which access the web portal, search engine, media, news, entertainment, games, stock quotes, sports, lifestyle, mail, online banking, and online forums and includes the modem, web browser, email software, and a 3-month trial subscription. The service became gained popularity during late-1985 and now available outside the country.
Following the dissolution of the Vlokozu Union, the service was rebranded as EKSNet, along with renaming services, such as EKSMail (now VMail).